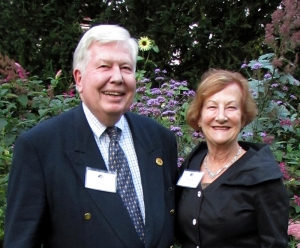 Dean was one of the first speakers I heard at a Trust symposium in Camden, South Carolina, in 1981. I approached him after the lecture, and he was naturally gracious with his time and intellect. Through the years, Dean became a great confidant, mentor, and friend. As those who knew him can attest, he touched so many people's lives that his absence leaves an aching void. What he brought to the Decorative Arts Trust has truly been immeasurable.
Randall A. Schrimsher, President,
The Decorative Arts Trust
Dean was a stalwart of the Decorative Arts Trust. If I had said this to him, his eyes would have twinkled, a big smile would have appeared, maybe a blush, and he would have made a humbling joke about the idea. The truth is that the Trust was incredibly fortunate to have such a well-connected and well-informed American decorative arts expert as a loyal board member who was also great fun and a fixture at our symposiums. As a natural raconteur Dean brought an enriching depth of information to lecture introductions, summations, and bus tours. He was often accompanied by his lovely wife, Marie, and together they would fill in wherever needed and always with the Trust's signature friendliness. Dean will be missed by many individuals and groups around the country, but his special love for the Trust and its members, and us for him, will be a lasting loss.
Penny M. Hunt, past Executive Director,
The Decorative Arts Trust
There was nobody who didn't like Dean, and most loved him. At our recent Chicago symposium, he was holding court, surrounded by young acolytes who regarded him like a god, staring in uninterrupted awe as he rambled on with yet another story, never name dropping, but always invoking tantalizing characters, in rich locations, and sometimes involving antiques.
Ralph O. Harvard, III, Vice President,
The Decorative Arts Trust
Dean was as passionate about people as he was the stuff they collected and studied. Whether he encountered a young scholar, a top-flight collector, or a participant at a Trust program, his interest, sincerity, and good humor were constant. His tales from the field were unsurpassed, but behind those stories, it was always clear that he held his cherished family and beloved Long Island above all else. I feel incredibly fortunate to have spent time in Dean's company and will always carry a happy memory of this jolly figure in a navy double-breasted blazer sharing anecdotes about his life, career, and loved ones.
Matthew A. Thurlow, Executive Director,
The Decorative Arts Trust
Having spent so much of his life in New York City, I think it's fair and perfectly appropriate to describe Dean Failey as a mensch. Dean was one of the kindest, funniest, and most honorable men I have ever known. When I was a student at the Cooperstown Graduate Program with a budding interest in early New York furniture, it was Dean, an acknowledged expert on the subject, who encouraged me and cheerfully made it so I could fish alongside him in the same pond. When I arrived in the American Wing at the Metropolitan in the mid-1980s, Dean, I firmly believe, did everything in his power to help me succeed, championing me as a speaker at venues around the country, and later convincing Christie's, with his partner in crime, John Hays, to make a sizeable donation to ensure that my first major exhibition, on the work of Charles-Honoré Lannuier, would succeed. There was nothing that pleased me more than to meet Dean at Christie's or for lunch when he would regale me with the funniest and strangest stories about the characters in our field. I'll treasure Dean's stories forever. But more than that, I hope never to forget the most important lesson Dean taught us all: to always be kind, make time for people, have an open and generous heart, and keep them laughing.
Peter M. Kenny, Board of Governors,
Decorative Arts Trust
---
Trust Creates a Memorial Fund in Dean's Honor
In recognition of Dean's tremendous contributions to the Trust and his role as a leading spokesman for the field of American decorative arts as a whole, the Board of Governors has created the Dean F. Failey Memorial Fund. Contributions to this fund will be gratefully received and allocated toward Dean's two great passions: education and scholarship.